The list below are the most popular books in the Direct Primary Care universe.
This is the best selling DPC book of all time is NOW UPDATED for 2021!
Tired of being a pawn in an administrator's game? Sick of ICD-10 coding? Would you rather stick a needle in your eye than hear another lie about quality metrics?
Maybe it is time you open your own DPC practice. Well, you came to the right place. Here is the book you HAVE to get first.
So, sit down with a glass of a water (or vodka) and create your future.
What are the benefits to getting this book, even before you start?
It may convince you to do it, which could make you feel like the doctor you always wanted to be.
It may convince you not to do it. DPC is not for everyone and you need to know all the risks going in.
It explains what equipment you need.
Shows what other resources should you read, watch or see.
Tells you how to market your new DPC practice.
Explains how to use Facebook to get the word out.
Helps you decide if you need an EMR or not.
As a Direct Primary Care doctor, you have a big hill to climb. The job is not easy. It's an uncertain world that can be as scary as it is gratifying. The Direct Primary Care Doctor's Daily Motivational Journal helps you in this endeavor by using the old-fashioned, pen-and-paper method allowing you to brainstorm, concentrate and gather your thoughts. Just fifteen minutes each morning with DPC specific questions will help you be the doctor you always wanted to be, in the practice you always wanted to have. But there's a secret: you can't be told what to think or believe. You must work through the process and find the answers yourself. That is what this book is for. This Direct Primary Care Doctors' Daily Motivational Journal is NOT just for beginners. It works really well even for seasoned DPC Docs who continually need to refresh their spirits, keep sharp and stay motivated. Whether you are just starting out or you are in year 10, this workbook is well worth your time and effort.
THIS IS A LARGE, 300+ PAGE WORKBOOK WITH DAILY QUESTIONS FOR AN ENTIRE YEAR. IT IS NOT A NOVEL TO READ. IT IS FOR YOU TO WRITE IN AND LEARN FROM. PLEASE SEE PREVIEW BEFORE PURCHASING.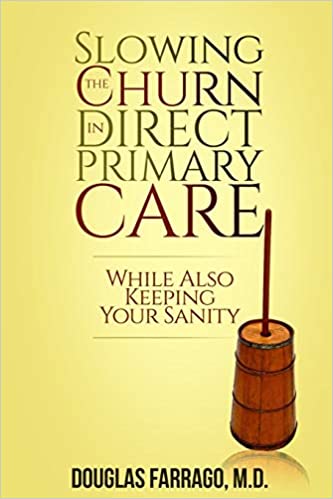 Some of the things you will learn by reading Slowing the Churn in Direct Primary Care (While Also Keeping Your Sanity):
How and why to analyze why patients are churning through your practice
Why some patients are not for you
Why hedonistic adaptation is affecting your practice
The traps of email and texting
How to create a community around your practice
The four agreements of DPC
You are not an imposter
You will have churn DPC. You will lose your mind at times. It is still all worth it. This book helps you navigate the journey of direct primary care. It is the sequel to The Official Guide to Starting Your Own Direct Primary Care Practice.
This book from Dr. Purcell is the culmination of years of experience working with employers (small and large), the magic, and the mistakes. The book is written from the DPC physician perspective and the DPC physician is the main focus to learn how to approach employers, work with them and their benefits advisors. In addition, there are specific sections for employers and benefits advisors to learn about DPC and how, together, all three groups can work to achieve some magic and miracles.
Julie K Gunther, MD, FAAFP explains why she had to leave her job within the healthcare system to do the work she trained to do. In 2014, Dr. Gunther sold her home, her truck, moved her family, learned all about SBA loans, bought a building and opened sparkMD, an independent direct primary care (DPC) practice. Peppered with personal anecdotes, shared leanings, spreadsheets, cautionary tales, resource lists and more, this guide outlines how to start your own direct primary care (DPC) clinic in twenty clear steps. Part memoir, part business tome, this 'how to guide' illustrates how one physician left the system, went out on her own and started taking care of patients in a simplified, back-to-basics health care model.